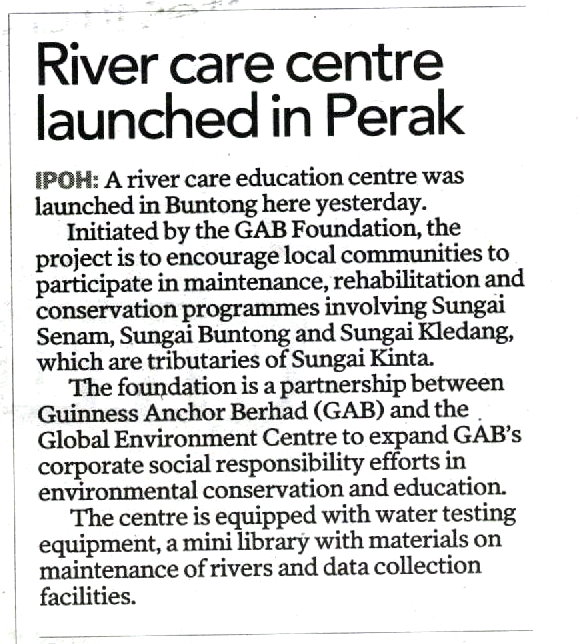 IPOH: The first Working Actively Through Education and Rehabilitation (W.A.T.E.R) River Care Education Centre (RCEC) was launched in Buntong here today.
This is the first such project in Perak, where the aim is to educate the community on the importance of maintenance of rivers.
Under the project initiated by GAB Foundation, it is hoped the local communities will participate in the maintenance, rehabilitation and conservation programmes of Sungai Senam, Sungai Buntong and Sungai Kledang which are tributaries of Sungai Kinta.
GAB foundation is a partnership between Guinness Anchor Berhad and Global Environment Centre to expand GAB's corporate social responsibility efforts in environmental conservation and education.
Two similar projects had been launched in Selangor.
The foundation's head of Corporate Responsibility, Tiffany Chew, said the centre is equipped with water testing equipment, a mini library on maintenance of rivers and data collection facilities.
"The RCEC will be supported by the ongoing W.A.T.E.R project on Sungai Kinta river education programme through smart partnership with government agencies, private sector and the public," she added.
S. Jayagopi, head of Buntong 3 and 4, said: "We want to create awareness among the community that 97% of water usage for various purposes come from rivers.
"The project is aimed at minimising river pollution through education programmes. Our target are youngsters and we also hope the public will give their support,"
Meanwhile Global Environment Centre River Care Programme coordinator Dr K. Kalithasan said under the W.A.T.E.R project, some 15 signboards on creating awareness of the need of oil and grease traps at restaurants will be placed at several locations here.
He noted that 10 traps each had already been placed in restaurants and school canteens since December last year with the cooperation of Ipoh City Council.
The cost of the traps totalling RM12,000 was borne by W.A.T.E.R.