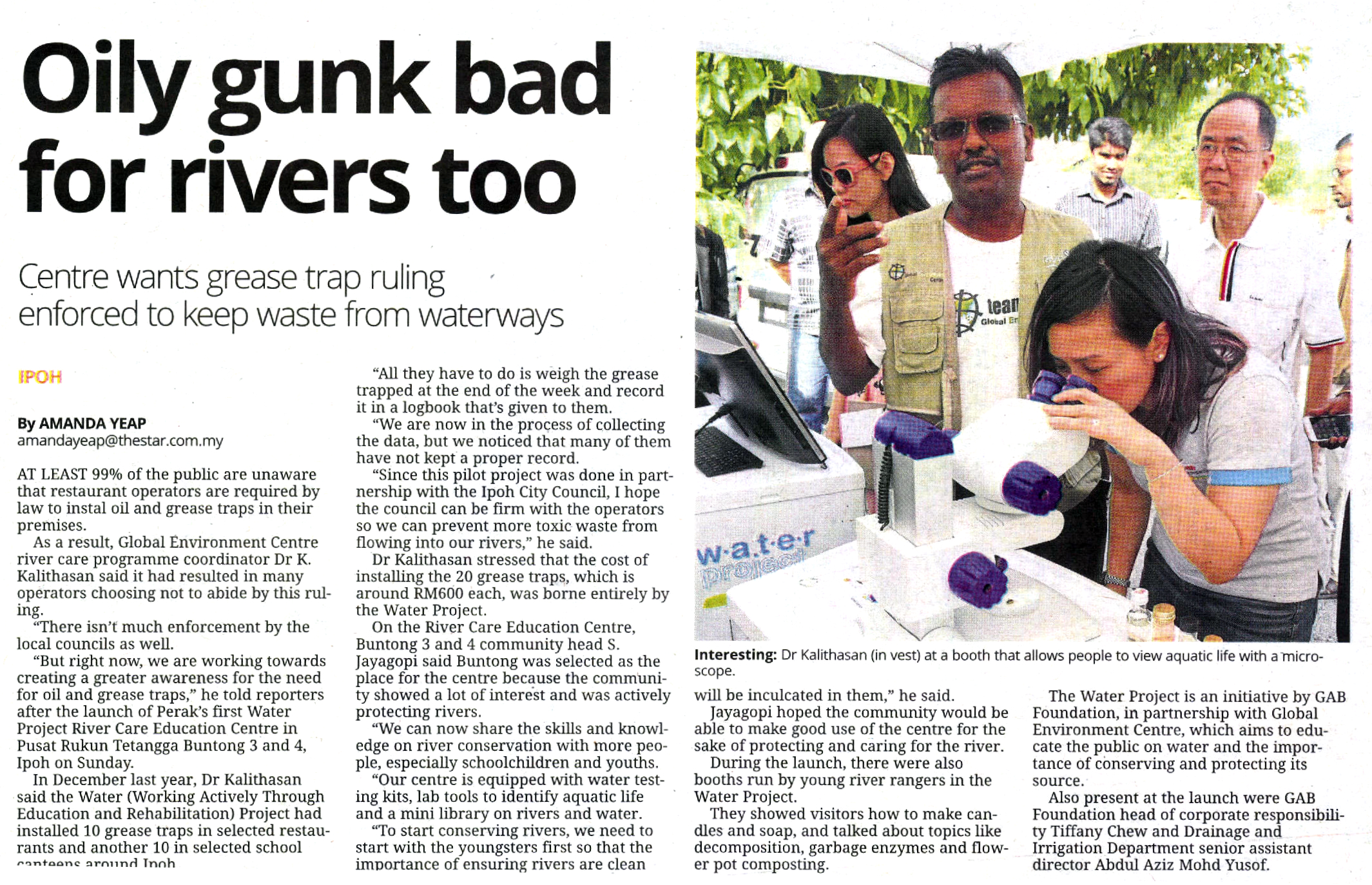 AT LEAST 99% of the public are unaware that restaurant operators are required by law to instal oil and grease traps in their premises.
As a result, Global Environment Centre river care programme coordinator Dr K. Kalithasan said it had resulted in many operators choosing not to abide by this ruling.
"There isn't much enforcement by the local councils as well.
"But right now, we are working towards creating a greater awareness for the need for oil and grease traps," he told reporters after the launch of Perak's first Water Project River Care Education Centre in Pusat Rukun Tetangga Buntong 3 and 4, Ipoh on Sunday.
In December last year, Dr Kalithasan said the Water (Working Actively Through Education and Rehabilitation) Project had installed 10 grease traps in selected restaurants and another 10 in selected school canteens around Ipoh.
"All they have to do is weigh the grease trapped at the end of the week and record it in a logbook that's given to them.
"We are now in the process of collecting the data, but we noticed that many of them have not kept a proper record.
"Since this pilot project was done in partnership with the Ipoh City Council, I hope the council can be firm with the operators so we can prevent more toxic waste from flowing into our rivers," he said.
Dr Kalithasan stressed that the cost of installing the 20 grease traps, which is around RM600 each, was borne entirely by the Water Project.
On the River Care Education Centre, Buntong 3 and 4 community head S. Jayagopi said Buntong was selected as the place for the centre because the community showed a lot of interest and was actively protecting rivers.
"We can now share the skills and knowledge on river conservation with more people, especially schoolchildren and youths.
"Our centre is equipped with water testing kits, lab tools to identify aquatic life and a mini library on rivers and water.
"To start conserving rivers, we need to start with the youngsters first so that the importance of ensuring rivers are clean will be inculcated in them," he said.
Jayagopi hoped the community would be able to make good use of the centre for the sake of protecting and caring for the river.
During the launch, there were also booths run by young river rangers in the Water Project.
They showed visitors how to make candles and soap, and talked about topics like decomposition, garbage enzymes and flower pot composting.
The Water Project is an initiative by GAB Foundation, in partnership with Global Environment Centre, which aims to educate the public on water and the importance of conserving and protecting its source.
Also present at the launch were GAB Foundation head of corporate responsibility Tiffany Chew and Drainage and Irrigation Department senior assistant director Abdul Aziz Mohd Yusof.